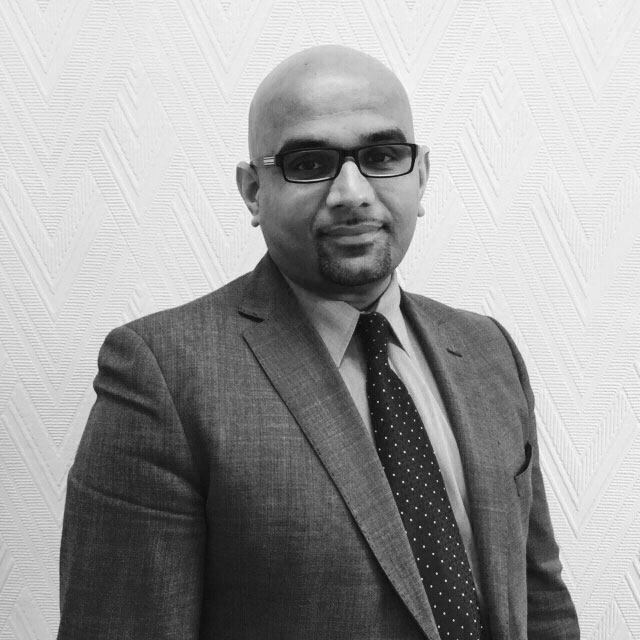 Istikhar Ahmed
Director and Supervising Solicitor, Senior Immigration Caseworker (Level Two and Supervisor) Accreditation from the Law Society


Date Joined:

2012

Offices:

Leeds, Sheffield & Wakefield
Qualifications & Experience
Ish Ahmed has worked in the immigration sector since 2000 and has over 20 years of experience as a specialist immigration Lawyer. He is highly experienced in all aspects of Immigration Law, having focused on immigration all his legal career.
Ish was called to the Bar in November 2012 by The Honourable Society of the Inner Temple and acts as the in-house barrister (non-practising) at Bankfield Heath Solicitors. Ish is also a qualified Solicitor and is accredited as a Supervisor & Senior Caseworker by the Law Society.
Ish deals with complex immigration cases and focuses on Business Immigration. He is noted for achieving successful outcomes in the most challenging cases.
Ish is liked by his clients for his professional, results-focused and committed style. Clients travel from all areas of the country to instruct Ish. His client's say that it is 'worth travelling' to make sure you get the best advice.
Ish is proud to been mentioned in Legal 500 as one of the best solicitors in the region. Ish was described as a:
'formidable' Immigration Lawyer with a 'deep understanding' of business immigration.'
Ish has extensive casework and advocacy experience, he has prepared and presented appeals before the First Tier and Upper Tier Tribunal for over 15 years. He has prepared grounds for applications to the High Court and Court of Appeal.
Before joining Bankfield Heath Solicitors, Ish was the Head of Office at Refugee and Migrant Justice (Leeds) (formerly Refugee Legal Centre) until its closure in August 2010. Ish has also worked as Deputy Head and Acting Head of the Immigration Department at another Yorkshire based immigration practice.
Languages
Ish is fluent in Urdu, Punjabi, Hindi and Mirpuri.
Memberships, Associations and Awards :
Called to the Bar as a Barrister (non-practicing) in November 2011
Qualified as a Solicitor in 2013
Shortlisted for Legal Aid Lawyer of the Year in 2013 – Immigration Lawyer
Became an Immigration Caseworker 2000
Shortlisted for Young Legal Aid Lawyer of the Year in 2004
Member of the Law Society's Immigration and Asylum Accreditation Scheme (IAAS) accredited at Level 2 (Senior) and Supervisor
Member of Immigration Law Practitioners' Association (ILPA)
Best First Year Law Student – University of Huddersfield
Co-Convenor of the Immigration Law Practitioners Association (ILPA) North East, Yorkshire and the Humber
Comments from Ish's clients:
"Mr Ish Ahmed is one of the best Solicitors that I have ever met. It was all worth it travelling from Manchester to Leeds to be able to use their services. Highly recommended! Thank you Bankfield Heath Solicitors." (S Z – Mancheter)
"Best Immigration Solicitors in Leeds and Yorkshire. Huge thank you to Ish Ahmed and his team. Exceptional service. Price reflects the level of service and expertise. You get one of the best immigration lawyers in the country in my view. My application was prepared immaculately and the result reflected the preparation. Ish really does care. Excellent result in a difficult case. I would recommend to anyone with an immigration problem. Thank you" (AA – London & Dubai)
"Ish Ahmed is a such great and professional solicitor and I received an excellent service. I really appreciate it and everything is perfect. If you need any immigration service, I highly recommend" (HZ – Leeds)
"Ish Ahmed is very dedicated to giving full, clear and necessary information should you seek for. I reached him for a few pieces of advice on my case, and end up having a full understanding of what options are there and which route is best. And he did not charge for any minutes of it with this kind of information and assessment. I highly recommend Ish Ahmed and his firm if you would want a reliable solicitor to handle the case. (TN – Leeds) "Sometimes in life, you really need a chunk of good luck … and that's what happened to my wife & I when we were seeking help with our immigration issues. That said, by leaving this 5-star review, I hope others won't need to get lucky … rather, I hope this review helps others to find Bankfield Heath Solicitors at the very top of the list (where they absolutely belong)! … Then my phone rang … and it was Ish from Bankfield Heath Solicitors. He was calling me at 7pm UK time, having tracked me down on WhatsApp after having seen my email inquiry from earlier that day. Talk about a solicitor who's willing to go above-and-beyond … that absolutely blew my mind! When I think about what was at stake, and the outstanding service (and results) he delivered, it's probably no exaggeration to say that was the luckiest phone call I've ever received. There was no run-around and no nonsense. Ish took his time to listen to the situation that my wife & I were facing and, right there on that first call, he laid out a very clear list of options (as well as explaining the obstacles that we'd face). He offered to perform a brief review of my documents and promised to provide a plan of attack the next day, along with a fixed quote for his services should I wish to proceed with him after his initial review.
Fast forward to today, and everything has been resolved in our favour. However, I can't stress just how critical it was for us to have Ish fighting in our corner. At every twist in the saga it gave us tremendous peace-of-mind to have his unquestionable expertise, knowledge of the system, and understanding of the process working for us…Thanks Ish … truly can't thank you enough for calling me that evening! (AP – Tucson, Arizona, United States of America & Northumberland)
Trustworthy, reliable, professional immigration lawyers. Communication is easy and our solicitor, Ish Ahmed, took the time to speak to us and to explain the process at each step. He didn't rush us or make us feel stupid for asking so many questions. We were supported at every step of the way. Documentation is clear. There are no hidden bills or clauses. I couldn't be more grateful. Definitely recommend. (GM – Egypt & East Yorkshire)
"Excellent service- especially to Ish thank you very much for the all help and support. You always answer my inquiries and helped me feel less stress with my case." (MB – York)
"My company had our sponsor license suspended, spoke to couple of big names in London and they said there is no defense against the allegations leveled by Home Office. Ish found flaws in home office allegations and made such a strong representation that HO had no choice but to reinstate our sponsor license with same A+ rating. A big thanks to Ish and his team. Would highly recommend for any immigration matters." (SR – Bradford)
"I just wanted to say huge thank you to all BHS staff. especial thanks to Ish Ahmed the best solicitor ever, who was always helpful and always there for me whenever I need anything at anytime. I do really appreciate what you did for me . I do highly recommend BHS for anyone who need special services with very good experienced solicitors . Massive thank you again and again. (J B – Scotland)
"Thank you so much Mr. Ish and Bankfield heath for an excellent service in immigration matter. Mr. Ish is an expert person in immigration matter, hardworking, professional, so helpful, friendly and patient . He gives you all the time that you need to answer any question. I highly recommend Mr. Ish and Bankfield heath for their services. (Y S – Leeds)
"You have achieved a brilliant result for me and you saved me and my family – god bless!" (I O – Barnsley)
"I so appreciate for what you have done for me. I have been so satisfied with your services …Thank you very much again." (S A – Manchester)
"Your advice was very clear and I felt like you fought for me and my family – thank you to Ish and Bankfield Heath Solicitors" (L F – Leeds)